Let this sink in...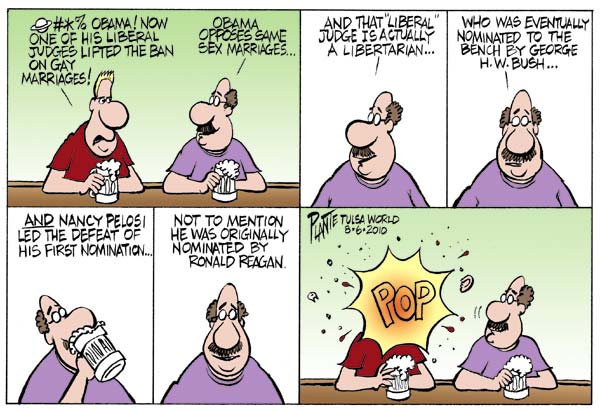 I came across this over on
PoliticalIrony.com
. This is exemplary of the case I've been making for awhile now that "conservative" no longer means what it used to. Or anything at all, in fact. That what we have in the Republican Party today is not "Conservatives" but rather Right-Wing and/or Religious RADICALS. They can talk about "small government" all they want, but it no longer means anything. It's not REALLY part of their platform anymore. (DHS anyone?) Its just something they throw out there so they don't look like idiots when they push for more tax cuts immediately after complaining about the deficit. (Too late.)
Because THIS?
THIS
is what "small government" looks like. Libertarianism. Now I'm NOT a Libertarian. I COULD BE a
moderate
one - they're the only part of the Republican party that I have the least bit of respect for. And I could definitely vote for one, provided that they held Social Libertarianism as highly as Fiscal Libertariansm. But unfortunately the TRUE libertarians in the Republican Party (like Judge Walker) are pretty much GONE, replaced by Social Conservatives [Religious Radicals] who merely want to lower taxes and deprive the government of its ability to regulate industry.
Because the TRUE Libertarian, the CLASSIC Conservative, would support Judge Walker's decision. S/he'd also be pro-choice on abortion. And favor the legalization of Marijuana. These are ALL "small government" positions. They are all what the world would like like if, as Ronald Reagan claimed would happen, Government would "get off our backs." But I'm still waiting, 30 years later, for Government to stop getting MORE on my back. And with the Social Libertarians now completely marginalized in the Republican party, and Obama's and the Dems' continuous kowtowing to the Right, I don't it happening anytime soon.
Just remember what's REALLY going on here. "Conservative" is just a niceer sounding (read: better polling) word that the Radical, Religious Right has co-opted to obfuscate their true agenda. There is nothing "conservative" about them. It just about
Fear, Power
and
Money
. They use Religion (Fear) to get people to vote for them (Power) so they can pay little or no taxes, and their companies can pollute, exploit and otherwise screw over the public in their reckless pursuit of proifit (Money.)