*sigh*
I've
really
been losing heart lately.
The
Phelps piece
was totally draining for me to write, because it really
is
a lose-lose scenario. I still feel like crap for having to come down on the side of shitstain like Phelps, and feel even worse that my feelings haven't really changed much since writing it. Sometimes I find that when writing something and laying out my argument that my feelings on the matter change during that process. That the arguments that sounded fine and dandy in my head, sound absurd once I put them down on paper, (so to speak.) And the Phelps piece could easily fall into that category, bar the fact that I still feel the same way. (And still feel completely and utterly awful about it.)
But beyond any
one issue
, there's been a growing sense of helplessness in my mind lately. Some of it comes from the continuing erosion of public support for the Democrats, and how they will now likely lose control of
at least
the House if not the Senate. Part of it comes from the fact that they
DESERVE TO,
having abandoned their voting base, accomplished very little, and failed to really sell what they
did
, after having made concession after concession to the Right, all in a vein effort to win their support – which they never would. And perhaps the worst part of it all is that the general perception (according to narrative being played out in the media) is that they're losing because they tried to be too Liberal. This narrative has been carried by the Beltway Press since the Carter days, and while there has NEVER been much actual evidence to support it, there is far less now than there has ever been.
The REALITY is that the Republicans have actively tried to sabotage everything Obama and the Democrats have tried to do, even as this has caused people to lose their homes, lose their unemployment benefits, and forestalled the country's economic recovery until such time as it would be politically advantageous for them. And for all their treasonous, anti-America scumbagery, PEOPLE ARE REWARDING THEM.
What a joke. Obama's too liberal – even though no part of the liberal agenda has come to pass – and it's his fault the country's in this mess – even though it started under Bush, and has been on a steady path to recovery, despite every effort made by the Republicans to prevent this.
The public is being actively misinformed. And they have no fucking clue. None at all.
And it's not like I haven't been aware of this for years. It's not like my frustration with utter stupidity possessed by the average American is anything new. But while I've been both a skeptic and cynic my whole life, I guess for one brief moment, between the time the Democrats took back the House in '06 and Obama won the Presidency in '08, I thought things might change. For one brief period of time, I let myself BELIEVE. I had FAITH. But I guess I also seriously underestimated just how stupid this country is, and how easy it would be for the uber-rich and the RW Media (which is ALL of the media!) to simply GIVE power back to the Right. I
really
didn't think people would forget how badly the Republicans fucked everything up quite
this quickly
, especially as the Democrtas
have
made
some
progress FIXING almost
everything.
IOW - the COURSE is basically right, we just not going fats enough, thanks to the Repulicans, so people want the Republican's to set the course.
It's makes no damned sense
at all.
And not only are the Republicans are running against a recovery that they fought against, and incumbantcy that has been slowly but surely cleaning up their messes for the past four years, reversing the downward death spiral that we were in when the Dem's came to power in 2006 and that we in the absolute
depths
of when Obama was elected in 2008… And yet not only are they winning, but the candidates they are winning with candidates who are like everything that was wrong with the ones that lost in 2006, SQUARED! I swear… the next time I hear one of these god-damned tea-baggers saying that we need to cut spending to create jobs, or cut taxes to fix the deficit, I am going to punch them square in the face! (And while they're on the ground, as I continue kick the shit out of them, maybe I'll take the time to educate them about how progressive taxation systems or macroeconomics work.) Reagan & Bush'41 CREATED the fiscal problem, Clinton fixed it, Bush'43 brought it right back, and these people want to go BACK to those morons, even as the economy recovers under Obama!
It's utterly insane.
I'd say they deserve what they get, but the problem is that the rest of us DON'T.
Anyway, thanks. Thanks for listening to me piss and moan. I really
needed
that. I want to leave you with something I came across the other night from a webcomic I've started reading recently called "
Venus Envy
." (Which is really, really GOOD, BTW! Strong, complex characters, good plot with clever twists, funny as hell at times, dark and tragic at others.
Definitely
a future Silver Star recipient, although probably not this month.) This is a rather old piece, and it's not a piece from the actual storyline, but rather an expression of the author's frustration with the results of the 2004 election that perfectly echoes not only how I too felt at the time, but how I have increasingly come to feel in over the past two years, and particular in the past few months. I couldn't say it any better, and don't really want to try (again) so here it is: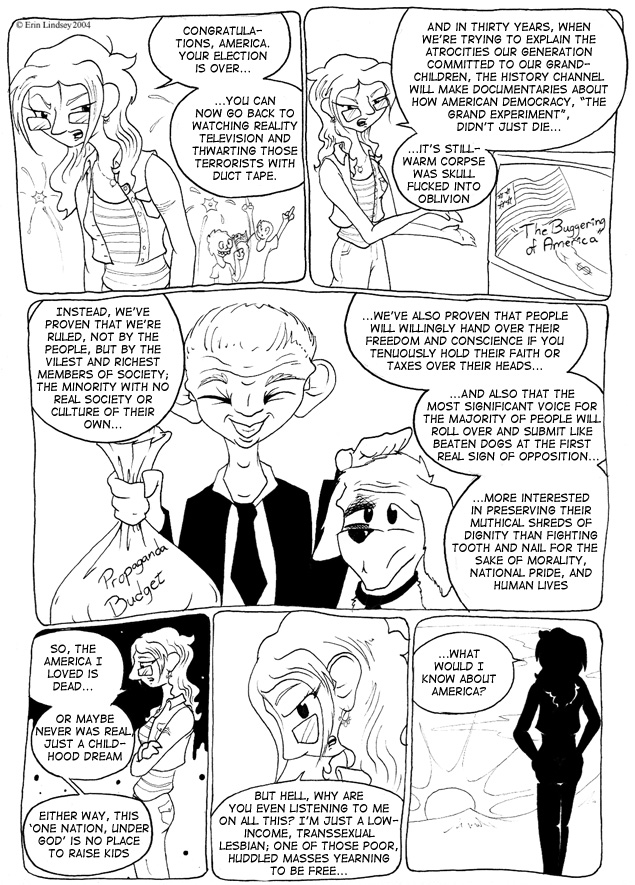 You're beautiful, Erin.
And BTW, I love
her follow-up reply
, to the emails basically telling her to STFU and 'get on with the story.' All I can say is, "Wow. Damned strait! You go, girl!"